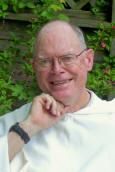 Click here to view three services from a Lenten mission By Fr. Williams.
Theme of the Mission: "The Time of Fulfillment is here."
By: Fr. Richard B. "R. B." Williams, OP
Since 1992, after many years in campus, formation and parish ministries, Fr. R. B. Williams, O.P., has conducted retreats and parish missions around the U.S.A. He is now based at Holy Rosary Priory in Houston, TX, and does full time itinerant preaching in addition to his regular online preaching. Please consult our PREACHER SEARCH link for information on how to contact him!