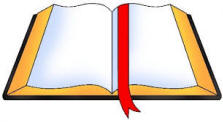 FAITH BOOK
"THE BODY AND BLOOD OF CHRIST (A)
June 11, 2023
Deut 8: 2-3, 14b-16a; Daniel 3: 52-55;
1 Cor 10: 16-17; John 6: 51-58
by Jude Siciliano, OP
---
Mini reflections on the Sunday scripture readings designed for persons on the run. "Faith Book" is also brief enough to be posted in the Sunday parish bulletins people take home.
From today's Gospel reading:
Whoever eats my flesh and drinks
my blood remains in me and I in them.
Just as the living Father sent me,
and I have life because of the Father,
so also the one who feeds on
me will have life because of me.
Reflection:
In some Christian traditions there is an "altar call," a moment when those who have heard the Word of God are invited to come forward to "accept Jesus into your life." Each time we come forward to receive the Eucharistic bread and wine we are expressing our desire to take Jesus into our lives. We are responding to an "altar call" after having heard the Word. We come forward to receive the One whose life can shape our lives. In receiving his body and blood, his life, we are asking that our lives reflect, as his did, our compassionate and forgiving God.
So, we ask ourselves:
How does my receiving the Eucharist shape how I live my life?

If I never again received the Eucharist, what difference would that make?
Click here for a link to this Sunday's readings:
https://bible.usccb.org/bible/readings/061123.cfm
---
FAITH BOOK ARCHIVE:
---